Fig and Olive Tapenade

recipe
Olive tapenade is a traditional Italian antipasti dish and it is basically chopped olives combined with garlic and olive oil. This recipe makes it a little more upmarket and combines balsamic vinegar, fresh rosemary and figs into the tapenade for a delicious salty sweet starter that is perfect for serving with thin slices of baguette.
Ingredients:
200g dried figs
125ml water
150g Kalamata olives, pitted
2 tbsp. aged balsamic vinegar
1 tbsp. extra virgin olive oil
200g cream cheese
2 cloves fresh garlic
1 tbsp. freshly chopped rosemary
1 tbsp. freshly chopped thyme
Salt and pepper
1/2 tsp. smoked paprika
Method of Preparation:
Finely dice the figs and place into a pan with the water. Boil until tender and the liquid has reduced.

Finely chop the olives. Combine these into the pan with the figs, remove from the heat and add the olive oil, balsamic vinegar, rosemary, thyme, paprika and a good pinch of salt and pepper. Mince the garlic cloves and stir these in.

Cover with cling film and place into the fridge overnight for the flavours to develop.

To serve, spoon the cream cheese onto a wooden platter and then spoon the tapenade over the cream cheese. It will keep in the fridge for up to a week and will only get better with time.
Author: Laura Young.
Back to the Fig Recipes home page.
Add a Review or Comment:
Conversions
200g
about 7 oz

(7.0546 oz based on 0.035273 ounces in a gram)

125ml
about ½ cup

(0.5283 cups based on 236.59 mililitres in a US cup)

150g
about 5 oz

(5.29095 oz based on 0.035273 ounces in a gram)
Data:
Published:
August 31, 2011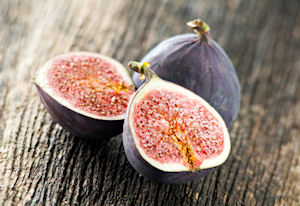 Similar Recipes:
Fig and Artichoke Tapas


This tasty tapas dish combines saffron scented figs with baby artichokes, almonds, olive oil, paprika, white wine vinegar and s...

Fig and Pecan Cake


This simple cake combines the delicious flavour of sticky figs with cinnamon, mixed spice, almonds and nutty, fudgey pecans. It...

Fig and Ricotta Crostini


This impressive canape recipe is sure to wow your dinner guests. Creamy ricotta combines with sweet sticky figs, spiky balsamic...